A Guide to Passing the PE Exam on the First Attempt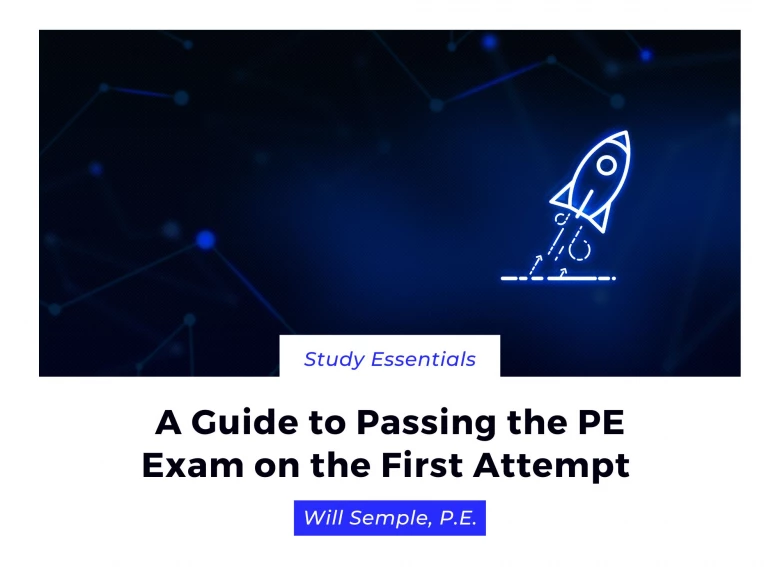 View full image
"Success is no accident. It is hard work, perseverance, learning, studying, sacrifice and most of all, love of what you are doing or learning to do." – Pelé
I'm Will Semple, and I recently passed the new format of the Civil PE Exam. Since taking the exam, several design engineers have reached out for study tips. This article is geared towards anyone who is either currently preparing for their PE Exam or planning to take it soon.
Gone are the days of carrying heavy suitcases filled with reference books for the PE Civil Exam. The PE Civil Exam has switched to a computer-based format (CBT), and the only material provided is the 500-page PE Civil Reference Handbook. You should keep this handy while studying and use it regularly.
Having a solid study plan is essential to pass the PE Exam on the first attempt. Did you know that the first-time pass rate across disciplines is 50%, and the odds of passing on your second attempt goes down to 35%? You can avoid having to retake the exam by being intentional with your study habits. First, you will want to decide if you want to invest in any prep courses to help you study. There are several reputable prep courses to choose from, each with in-person, live-web, on-demand, or notes-only options. Make sure the courses you select are updated for the CBT format. You can verify this by checking the latest updates and opinions on current prep courses at engineerboards.com. Schedule your testing date about three to four weeks after the course ends.
Practice exams are a valuable resource to familiarize yourself with the questions and time limits of the actual exam. Prep courses often have long practice problems to teach multiple concepts, which is good for studying, but not representative of the actual exam. I highly recommend the PE Prepared practice exams, which I found to be similarly challenging and timed to the actual exam.
Here are a few practice exams to consider:
• NCEES PE Civil: Water Resources and Environmental Practice Exam
• PE Prepared Civil PE Practice Exam: Breadth Version A
• PE Prepared Civil PE Practice Exam: Breadth Version B
• PE Prepared Civil PE Practice Exam: Water Resources Depth Version A
• PE Prepared Civil PE Practice Exam: Water Resources Depth Version B
You'll hear several tips repeatedly for the PE Exam, including studying 200-300 hours over three to six months. However, some engineers have passed the exam after just glancing at a practice exam the day before. Others took more than three attempts and over 300 hours of studying. Most will fall somewhere in between. At the bottom of this article, you'll find my study calendar, which includes just over 200 hours of studying over two months. I built my studying around the prep course material and reviewed the information from each weekend during the weekdays. I started taking practice exams after the breadth portion of the course was over and focused on the depth portion. I would recommend ending your last prep course three to four weeks before your exam date to give yourself ample time for review.
Don't forget the study tips that served you well in University:
Take it seriously - The three-to-six-month preparation period is not the time to work late hours or let other commitments interfere with your studying. This exam is as important as the Board for doctors and the Bar for lawyers. Identify your driving motivation to become a PE, and it will push you to dedicate time to studying.
Stay focused - After a long day at work, it can be challenging to study. I recommend finding a conference room at your office with minimal distractions or a study environment away from your work desk and home.
Take breaks - For my after-work study sessions, I took a 30-minute break before studying and didn't stay past 7 pm or two hours of studying. This prevented burnout and ensured I got enough rest to take on the next day.
Ask for Help - Seek support from colleagues who have recently taken the exam or utilize online resources like engineerboards.com for specific topic questions. Collaborate with fellow professionals for a successful outcome.
Good luck on your journey to becoming a PE!
| | | |
| --- | --- | --- |
| | | |
| William Semple, PE | | |