Building Barghausen's Mission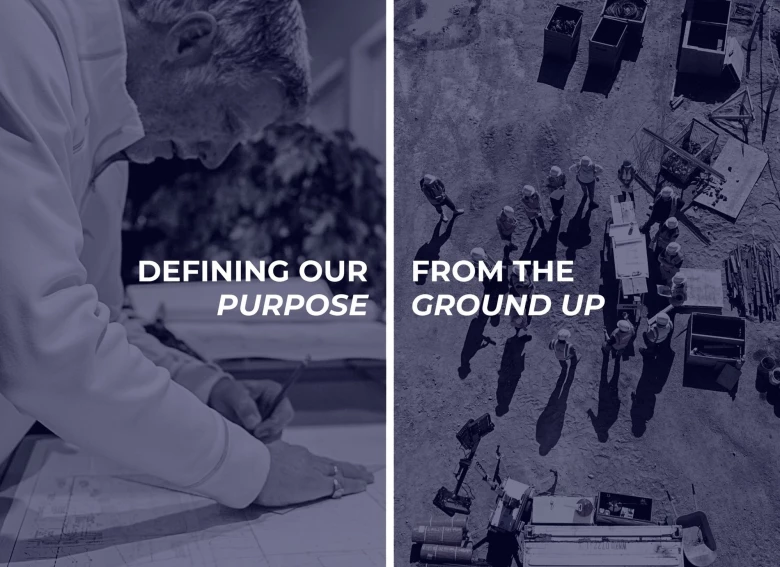 View full image



Barghausen opened for business in March 1982 with the goal of providing high-quality civil engineering and land use planning services with an emphasis on exceptional client service. These fundamental principles were the key to helping the firm grow each year, quickly earning Barghausen the respect and recognition of its clients.

Over the past four decades, Barghausen steadily transitioned from a small local team of engineers and planners into the multidisciplinary firm it is today, with over 200 people working together to help a multitude of clients achieve their goals and objectives throughout the country.

The year 2022 is the culmination of 40 years of hard work and accomplishment, leading us to reflect on the strategies that were instrumental in helping Barghausen reach this milestone. We realized that our success was a direct result of being invested in the outcome our clients were seeking, making us a valued client-partner as opposed to a hired consultant. We did this by approaching every opportunity with the same end goal of making sure every client received the absolute best outcome for their project that Barghausen could deliver; thereby ensuring they would continue relying on our expertise going forward.
These initial efforts proved to be the key to launching consistent word-of-mouth recommendations, leading to decades of trusted relationships that allowed the firm to grow alongside its loyal client-partners.
Early on we began consistently asking our clients if we could help them with other aspects of their projects above and beyond what we were originally asked to do. This strategy, in combination with the firm's early success, technological advances, and an expanded leadership team, created an opportunity to offer more services than just engineering and planning. Land surveying soon became an integral part of our business, followed by other professional services such as landscape architecture design and project administration management. Although some of our success can be linked to advancements in a shifting industry, along with overall economic growth, our approach to doing business was truly the essential ingredient in the recipe for success.
With 40 years now behind us, it is a perfect time to define the core values that led us here. Although these core values have always been embraced by leadership, we knew they needed to be defined and embraced by everyone interacting with our firm. Thus, we had a new challenge; developing an authentic mission statement reflecting the best of what Barghausen has to offer.
We needed to define a discernible statement to illustrate our history and model our future.
The Brainstorming Process



The brainstorming process started by looking at other mission statements within the industry. There were several questions we asked ourselves throughout this competitive analysis:

Did the statements match up with our outside perceptions of the firm?
Did the mission fit their capabilities?
Was it easy to understand and reciprocate?
What kind of verbiage or statements are already out there?
Did the mission seem like an authentic representation of the business?
Did it align with core values or notable aspects of the firm's presence?



Going through this process helped characterize the outline of what we wanted our mission to look like. We wanted it to be simple, one or two sentences max, while still including the critical elements responsible for our success. We had to interpret the influences behind the firm's direction, and clearly communicate future expectations, all within a memorable and authentic statement.
| | |
| --- | --- |
| In 2021 we launched our core values. This was an important piece of the puzzle that had to coincide with the mission on top of everything else. Our core values are Superior Client Service, Employee Growth, Integrity & Authenticity, Create Connections and Work Hard, Play Hard. With these values in mind, we started from the ground up. We spent time defining the basics of who we are, what we do, why we do it and what makes us unique. | |

Defining the firm's value statements:



We help clients execute their vision into the built world through high-quality services provided by experienced professionals.
We have decades of experience combined with innovative ideas from people of all ages and backgrounds.
We build relationships through responsive communication and consistent results.
We provide smooth transitions between development phases by providing multiple services in-house.

Whether it be an internal challenge or problem solving on behalf of a client, we approach everything with a passion for finding solutions.

Delineating the intent behind our work was simple, our goal is to help people execute their vision for growth. It was unanimously agreed that the first message within the mission needed to center around fulfilling our client's vision. After discussing more key factors in detail, we dug a bit deeper into the fuel behind both internal and external facets of the firm.

The driving force behind our success? Passion.
Now we know passion can be a lofty buzzword, right? For us, this word is not used lightly. It is the reason we get out of bed every morning, it fuels our thoughtful leadership, and keeps us pushing towards the future. We have passion behind every aspect of what we do.
Passion radiating from our employees when discussing their projects.
Passion towards our clients as the force developing the built world around us.
Passion for the people who bring their knowledge and creative energy to the firm every day.
Passion for authentic connections and long-standing relationships with both clients and team members.
Passion for the challenge of finding resolutions, whether it be an internal conflict or an effort to rectify any hurdle in front of a successful project.
Passion in the eyes of the many people who started their careers at Barghausen and never left.
After discussing key words, verbiage debates, and several draft variations in the circular bin, we finally landed on the dominant elements within Barghausen's mission. Whether it be an internal challenge or an external commitment, we approach every aspect of our business with passion, exceptional service, proactive communication, and creative solutions. These elements perfectly describe the factors behind the firm's history and what will continue to be the framework of its future. After landing on solid ground, we struck gold.

After 40 incredible years in business, Barghausen had an official mission statement!
Ready, Set, Launch
We did the brainstorming, we put in the work, now it was time to execute. Rolling out a crucial aspect of the firm needed to be done right. The goal of the launch plan was to build excitement, resonate with our team, and be visible within the brand presence both internally and externally. Along with the typical housekeeping items of updating materials, our website, and social profiles, we began brainstorming creative ways to help our team recognize our new mission.
Our goal was to help our employees become active participants in spreading the news and living the mission every day. We shared the announcement via email, on our intranet page, in the monthly newsletter, and distributed graphics for the team to celebrate the news with the firm on LinkedIn.
We knew part of "walking the walk" of this new addition included implementing ways to recognize individual performance, attitude, and mindset in relation to the mission and values. We added questions into our annual 360 review process, where both managers and employees provide written feedback about examples or suggestions directly tied to the mission and values.
On top of the review process, we decided to openly celebrate team members who consistently exemplify these attributes. We created the "True Blue" award; nominated and decided upon by the leaders of each department. A total of seven employees (one from each department) were selected as the first official "True Blue" winners for exemplifying the firm's mission and core values. Award winners will be announced live for the first time at our annual all-company party on October 8, 2022!
With such a new and exciting milestone, we wanted each employee to have a daily reminder of the mission alongside our values. We needed to display these elements on an item that would be long lasting, yet functional in everyone's daily workspace. The item needed to be easy to ship to other locations, but big enough to display both the mission and values. In celebration of the launch, each employee received a mousepad and a t-shirt as a token of the firm's milestone moment.

A "Statement" Piece
Another important aspect was adding the mission to our everyday workspace. We partnered with a local imaging company to produce our "mission statement wall" concept, a representation of our history and mission in the front lobby area of Barghausen's headquarters. The installation included a wallpaper design created in-house, using a collage of hand-drawn engineering, landscape, and survey plans from some of our first projects. The wallpaper was designed to mimic an engineering plan, with a sidebar that includes our address, a custom Barghausen engineering stamp, and our logo. As a tribute to our history, the old Barghausen logo (rebranded in 2018) also makes an appearance on the wall. The mission statement is featured on a frosted acrylic panel, emphasizing exceptional service, proactive communication, and creative solutions in 3D metallic black letters. This new artistic element is a bold piece of our culture that will greet visitors and employees for many years to come.