George Newman Recognized for MBA and BIAW Contributions
Company News, Industry News, Employee Insights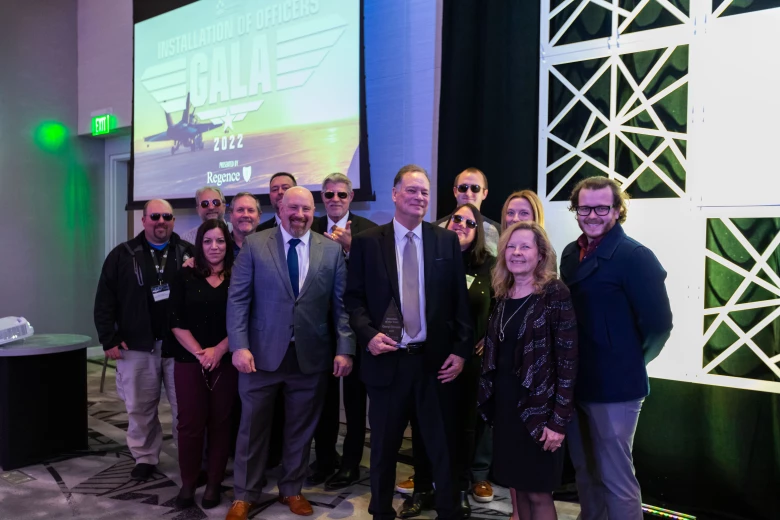 View full image
Last week we joined the Master Builders Association (MBA) of King and Snohomish counties for their annual Installation of Officers ceremony at the W Hotel in Bellevue, WA. This annual event highlights the MBA's new board members for 2023 and their other member accomplishments for 2022. The theme for this year's gala was Top Gun, complete with the "Danger Zone" theme song and character silhouettes around the ballroom. One of our very own, George Newman, Senior Project Manager and Senior Land Use Consultant, was awarded Associate Member of the Year.
"Out of 2,700 member companies, being selected as Associate of the Year is my biggest accomplishment as a member of MBA. I feel there are many others in our Association that are just as equally deserving."
George has been involved in the MBA for 20+ years on the Board of Directors, Chair & Vice Chair of the Developer Builder Issues Council (DBIC, Snohomish County MBA group).
"I am so thankful to have shared the past 21 years with such a great group of MBA staff and members: working hard on our issues and often in a difficult political environment. But we have always enjoyed our relationships and with a sense of humor to keep us energized and moving forward. I am going to miss you guys in my next phase of life as I retire next year."
To say this award is deserving would be an understatement. We left the ceremony with proud faces, a fresh pair of aviators and the Top Gun anthem stuck in our heads.
This was the second award George received this year. Since 2008, George has also been on the Board of Directors of the Building Industry Association of Washington (BIAW), where he assists with the Legislative Policy Committee and the Affordable Housing Committee. MBA of King and Snohomish Counties is one of 13 homebuilder councils that make up BIAW. Two weeks ago, he attended his final board meeting in Vancouver, WA where he was awarded the Associate Advisory Council's Associate Appreciation Award. These two awards are a testament to George's dedication to his career and to organizations that make an impact on the AEC industry.
As George prepares for retirement, he has high hopes that MBA and BIAW will be moving ahead on dealing with the issues and legislation that affect our industry, and that Barghausen will continue to be an integral and contributing member in the coming years. Congratulations to George and thanks for being the best "wingman" to our industry!