Landscape Architecture and Pollinator Pathways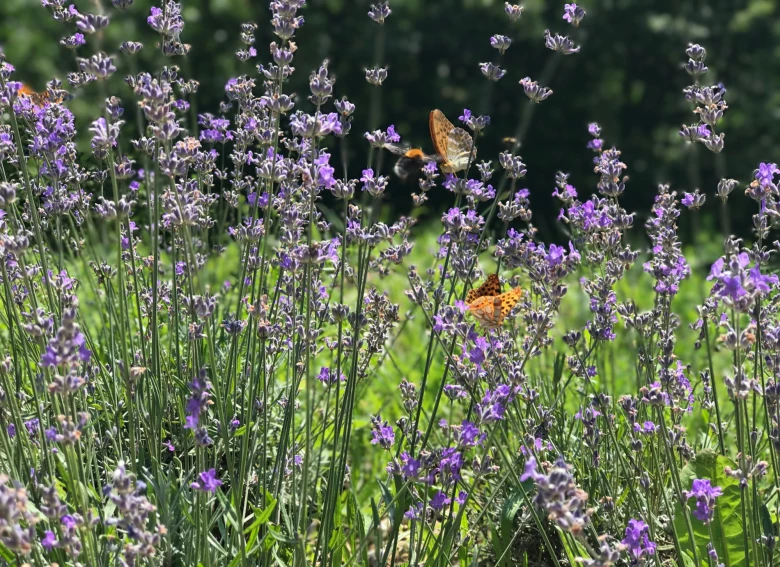 View full image
Protecting Pollinators this Spring Season

Landscape architecture plays a key role in the health of our ecosystems. As spring arrives, people are bugging to prepare their gardens for the blooming season. However, it's important to note that pollinators and other insects depend on last year's garden debris for shelter. Various insects like bees, butterflies, ladybugs, wasps, and beetles' nest in hollow stems and branches during colder temperatures. To protect pollinators, the best time to prepare your garden for the spring season is when temperatures are consistently between 50- and 60-degrees Fahrenheit.
In recent years pollinator species have had a concerning decline in population. Pollinators are responsible for a large majority of plant reproduction and help balance our overall ecosystem health. To combat this issue, landscape architects and ecologists are working together to create connecting landscape design infrastructure that helps pollinator species cohabitate in urban areas. Pollinator Pathways create a symbiotic relationship between nature and humans.
Founded in 2007 by Sarah Bergmann in Seattle, Washington, the idea was created as a way to connect human relationships with nature in urban areas. The project started off as a design of an urban system-park and quickly transformed into something bigger that tackles the overall picture of how urban design can shape our habitat health.
The first official Pollinator Pathway project connects Seattle University's campus with a small nearby wooded area. The pathway is a mile-long section of 12-foot-wide landscaped planting strips designed as gardens. The gardens connect two green spaces, Seattle University and Nora's Woods, with pollinator friendly plant species acting as a pathway to the larger vegetated areas. Instead of the typical grassy landscaped areas along streetscapes, the project ultimately encourages landscape designers to include other flowering plant species.
Since the initial project, Bergmann along with many other contributors has transformed the project into a global initiative, encouraging multiple disciplines to think about the bigger picture behind developments. The Pollinator Pathways organization provides a framework for implementing these design ideas into urban planning (read the Pollinator Pathway toolkit here).
Pollinator Pathways have specific criteria. Their purpose is to connect fragmented landscapes in urban areas to promote biodiversity and connectivity. The idea is to design with the big picture in mind and support our growing population while maintaining the natural ecosystems that we need to live a balanced life. These pathways don't always have to be pathways, pockets are another identifiable space that serve as anchor points for pollinating species. Greenspaces, yards, planting strips and parks are all examples of pocket spaces. All garden spaces will of course need long-term maintenance plans to upkeep the vegetation over time.
The goal of the pollinator pathways organization is to encourage a better relationship between nature and urban systems between cities, farms, forests, and green spaces. Through landscape architecture, humans can help create organized connections between various habitats and species. Interconnected webs of habitat systems provide complexity to our environment and various opportunities for plants to connect with pollinator species.
Want to learn more about Pollinator Pathways? Check out their website!
If you're not a landscape architect, you can still contribute to the overall initiative by increasing the amount of pollinator friendly plants in your own yard. Here are some plants that are native to Washington to help pollinating critters come visit your garden space:
Flowers
Common Camas
Henderson's Shooting Star
Pacific Dogwood
Pacific Bleeding Heart
Red Elderberry
Vine Maple
Orange Honey Suckle
Thimbleberry
Broadleaf Lupin
Harebell
Douglas Aster
Poppies
Daisies
Fuchsias
Rhododendron
Zinnias
Oregon Grape
Roses
Lilac
Cosmos
Echinacea
Foxgloves
Lilies
Butterfly Bush
Willow
Geranium
Sage
Buttercup
Clovers
Food/Herb Related Garden Plants
Tomatoes
Strawberries
Evergreen Huckleberry
Salmonberry
Spearmint
Lavender
Pumpkins
Cucumbers
Buckwheat
Cilantro
Squashes
Sunflowers
Sweet Peas
Green Beans
Blueberries
Raspberries
Blackberries
Rosemary
Cherry Trees
Apple Trees
Plum Trees