The Washington State Missing Middle Housing Bill (HB 1110)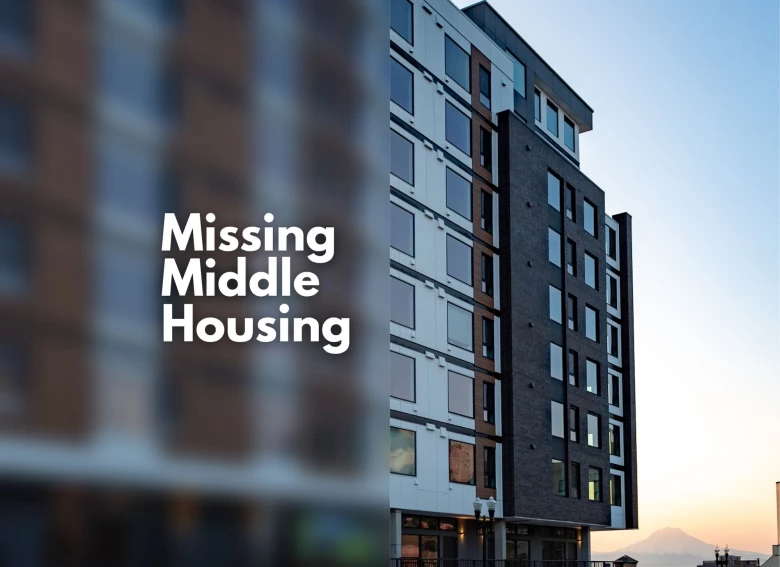 View full image
What is Missing Middle Housing?
Missing middle housing refers to homes that fall between detached single-family houses and large multifamily complexes in terms of size, scale and affordability. Examples of missing middle housing include:
Duplexes
Triplexes
Quads
Sixplexes
Stacked flats
Townhouses
Courtyard Apartments
Cottage Court
Live-Work Housing
Image © Opticos Design, Inc.
The Washington State Housing Crisis
Since 2010, the amount of detached single-family developments has declined significantly in Washington State. Restrictive zoning ordinances play a role in this; most cities have ordinances that limit where middle housing is allowed. It's estimated that Washington needs to develop one million homes over the next two decades to keep up with population growth.
The HB 1110 Bill
HB 1110 passed the Senate on a bipartisan vote in April of 2023. The bill was passed by the Washington State Governor in May of 2023 and will go into effect on July 23, 2023. To keep an eye on this bill, click here: WA State Legislature
The Missing Middle Housing Bill (HB 1110) was created to tackle the state's housing shortage by providing more affordable options for aging populations, first-time homebuyers, middle- and low-income populations and those in similar situations.
The bill will allow middle housing in most single-family neighborhoods regardless of local zoning laws.
It's important to note that this bill does not ban the development of single-family homes. It will, however, stop municipalities from requiring neighborhoods to be made up of exclusively single-family homes.
The Breakdown
HB 1110 has different regulations depending on the size of the city. The bill follows the below table (from slightline.org):

Sources: