Tips on Studying for and Passing the PE Exam
Employee Insights, Industry News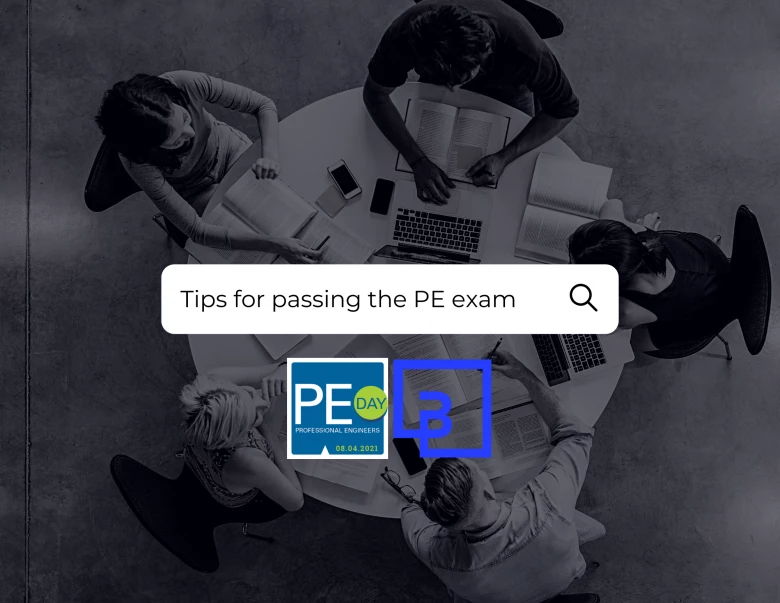 View full image
This year marks the sixth annual Professional Engineers Day! PE Day was created by the National Society of Professional Engineers (NSPE) to "raise awareness about what it means to be a PE, recognize licensed PEs, and show appreciation for the work they do each and every day." It's no secret that becoming a PE is challenging, did you know 50% of engineers go on to become licensed professional engineers? Passing the licensing exam is no easy feat, the first-time pass rate for the exam is 65%. To honor PE Day, we asked our licensed professional engineers for strategies on how to effectively study for and pass the PE exam.

Key Takeaways - Advice from Our Licensed Engineers:
Start studying early.

Create a study schedule and stick to it.

Network with cohorts to help one another.

Seek advice from people who have taken the test.

If you're working full time, talk to your supervisor about your study habits and expectations while preparing for the test.

Working and studying is tough, find time in your schedule to relax.

Take the night off from studying before the exam.

Answer the questions you know, skip the ones you don't. At the end of the test go back and answer as best you can.

If you're stuck, sketch out the question and visualize the problem.

If you really don't know the answer, take a guess!

Bring reference books, but not so many that it's overwhelming.

Practice, practice, practice! Take plenty of practice tests and time yourself.

Bring notes, especially on subjects that challenge you.

If you don't pass the first time - don't sweat it! You're not alone. Now you know what to expect for your next attempt.

After you pass, be proud and CELEBRATE! You've achieved a huge accomplishment!
Barry Talkington, P.E. - Principal Engineer, Kent, WA

Study habits: I took the review course offered through University of Washington which was twice a week on Tuesdays and Thursdays. Rather than worry about taking copious amounts of notes I sat in the class and listened to the lectures. It helped me remember what we learned in school. I then studied on my own a few hours a night on Monday/Wednesday and all day Saturday/Sunday. I took Friday's off. I took lots of practice exams and used the review course as a guide on what to study each week.
Strategies for the test: Thoroughly read each problem. If you don't immediately know how to do it, skip it, and move on. If you have time at the end, come back and try again. You may encounter a problem further on in the test that reminds you how to complete that problem. Use your time to complete the problems you know how to do.
Tackling challenging material: There will be questions you don't know how to solve. Don't worry about it. Move on.
Calming test anxiety: This is harder for some people. Just take things one step at a time.
Resources: Get your hands on as many practice exams as possible. Time yourself. The latest version of the Lindeberg Manual is a must have. Become familiar with where things are at. The index is your friend.
Ways to de-stress: Build in a rest day to not think about studying. I also took the day off from work before the test and didn't study at all.
Celebrating passing the exam: Several stiff drinks and laid on the floor until the migraine went away.
Anything else that stood out about your experience: You have to put in the time. Plan out your studying and what you will cover. I studied for approximately 4-5 weeks before the test. Every night I came home and studied several hours before bed, only to take time off for dinner. I studied for approximately 8 hours a day over the weekend. I put in a lot of time and I passed the first time. It has to be a priority, otherwise life gets in the way and before you know it will be test day and you haven't studied enough.

Haley Dawson, P.E. - Project Engineer, Kent, WA

Study habits: Start early! Create a study schedule for yourself for each week and stick to it. Get several practice tests from different sources and just keep doing problems from the practice tests.
Strategies for the test: As with any test, answer the problems you know right away first, then go back and work on the ones you don't know. That way if you end up not finishing in time, you wont kick yourself for "Christmas treeing" some of the answers. There are no penalties for wrong answers on the PE exam.
Tackling challenging material: Sketch it out! Even if you think you don't need to. Sometimes visualizing the problem is more helpful than you would think.
Calming test anxiety: Sounds weird, but eat a banana or drink some dandelion tea before you go in. Potassium really helps with nerves. Don't over-do it on the coffee or energy drinks right beforehand.
Resources: Amazon has several practice tests you can buy for reasonable prices.
Ways to de-stress: Make sure your study area is clean and there are no distractions. Studying is so much more stressful when your study area is cluttered or you have to tune out distractions.
How you celebrated after passing the exam: My fiancé took me out to a really nice steak dinner downtown.
Anything else that stood out about your experience: Your friends that are also taking the PE (even if they aren't taking the same test you are) are a great source of support. Your friends or family might not fully understand what you're up against, but your fellow engineers will. Get together and support each other.

Karen Harris, P.E. - Senior Project Engineer, Kent, WA

Get or borrow the Civil Engineering Reference Manual and use it to study. Less is more at the test, bring a couple of reference books but there is no need to bring the wagon of books like I saw at my exam! Go through the exam and do the ones you are sure about first and then circle back to the more difficult ones. Good luck!
Kacey Held, P.E. - Project Engineer, Roseville, CA

My experience was a bit different in that my state (California) requires 3 tests (1 national + 2 state specific) to get licensed. At the time, all three were required to be taken at the same time. It was so helpful to have others who came before me to provide insight to the experience, their strategies, general tips, and provide an overall sense of familiarity of what to expect. Most of all, it was a huge sense of relief to know that others failed before me as well! It created a sense of normalcy, that these tests were HARD and taking a few times to pass was completely okay.
The other aspect of the process that isn't always discussed, is how difficult it is to complete your regular job of 40+ hours a week, and then go home to continue studying. I'd advise those taking the test to be open with their supervisors regarding their upcoming tests and ensure everyone is on the same page in regards to expectations and realistic workload. It's in the firm's best interest to continue developing and producing licensed P.E.s!

Jason Hubbell, P.E. - Senior Project Engineer, Kent, WA

When I took the exam 20 years ago, it was all multiple choice. For me, strategy was key to passing the exam. If I couldn't find the answer to a question quickly, I would skip that one. Oftentimes, the skipped answers came to me once I went back to them. Save the hardest problem solving questions for last. Never leave an answer blank, guess B if needed. Don't take more than a few books with you to the exam as there is no way to handle more than that in my opinion. A "cheat sheet" or two of notes is a good idea too.


Sources:
Analysis of PE Exam Pass Rates