Welcome to Bonney Lake, Chick-fil-A!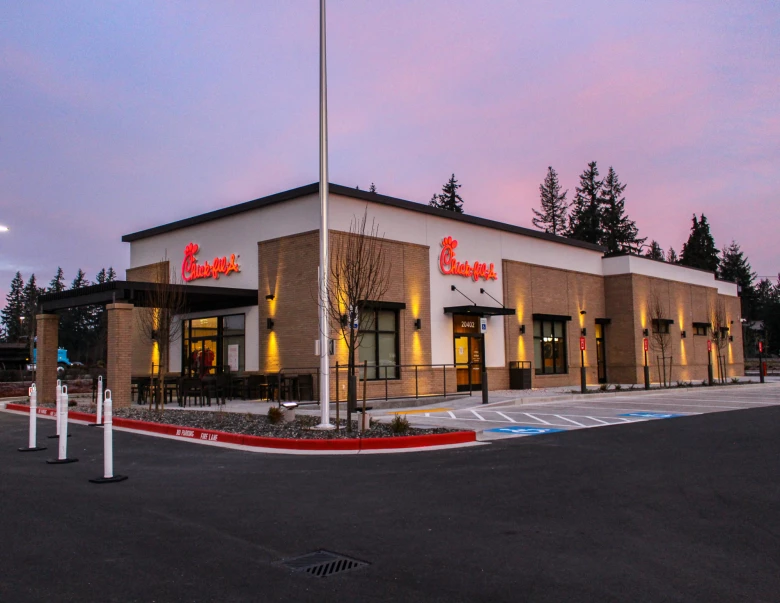 View full image
Chick-fil-A's Bonney Lake location is now open!

March 4, 2021
Chick-fil-A fans rushed to welcome their new restaurant location in the growing community of Bonney Lake, WA. Cars packed the drive-thru with people looking to get their hands on a meal from the famous chicken sandwich experts. Located off of highway 410, the new Chick-fil-A has Bonney Lake residents excited to have the iconic eatery chain close to home.
The new quick-serve location is part of several new commercial expansions in the Bonney Lake WSU Forest area. Prior developments include a Costco Wholesale, Costco Fuel, Chipotle, MOD Pizza, Valvoline, Sound Credit Union and The Habit Burger. The prime location has over 30,000 average daily travelers. Appropriately named, the Mountain View Marketplace adds essential growth to the Pierce County area.
For our team, the grand opening of the Bonney Lake Chick-fil-A location means seeing our hard work come to life. Our professional services staff played a vital role in the commercial development through land surveying, planning, civil engineering and landscape architecture. The project started in late 2018, with final landscape approvals finishing up in February of 2021.
About the Project:
The Bonney Lake Chick-fil-A location involved the development of a 4,900 sf quick-serve restaurant on a 1.2-acre site. The site features a total of 53 parking spaces, ADA friendly pathways, a bike parking area, a dual order drive-thru, 155 interior seats and an outdoor patio with 20 additional seats. The land surveying included preparing ALTA/ASCM land title and topographical surveys for the site. Our team conducted initial due diligence, zoning entitlements and prepared preliminary engineering plans. Civil engineering services included general site planning, a TESC plan, horizontal control, grading, drainage and utility plans. We prepared a Master Drainage Report that included infiltrating roof runoff completely on site through a gravel trench, sized for a 100-year storm event. The Bonney Lake Chick-fil-A location also includes pervious pavement as 10 percent of the surfaces on the site. Landscape architecture involved preparing landscape notes and details, code compliance calculations, planting plans and details, planting schedules, and irrigation plans. 30 percent of the site area is shaded by trees with additional plant species surrounding the location including Bamboo, Oat Grass, Juniper, Lavender and Beach Strawberries.
Client: Chick-fil-A
Project Manager: 4G Development and Consulting, Inc.
Architect: Ware Malcomb
Engineer/Surveyor/Landscape Architect: Barghausen Consulting Engineers, Inc.
Geotechnical Engineers: Terracon Consultants, Inc.
General Contractor: Alegis Construction