Barghausen's Improved PTO Program for Employees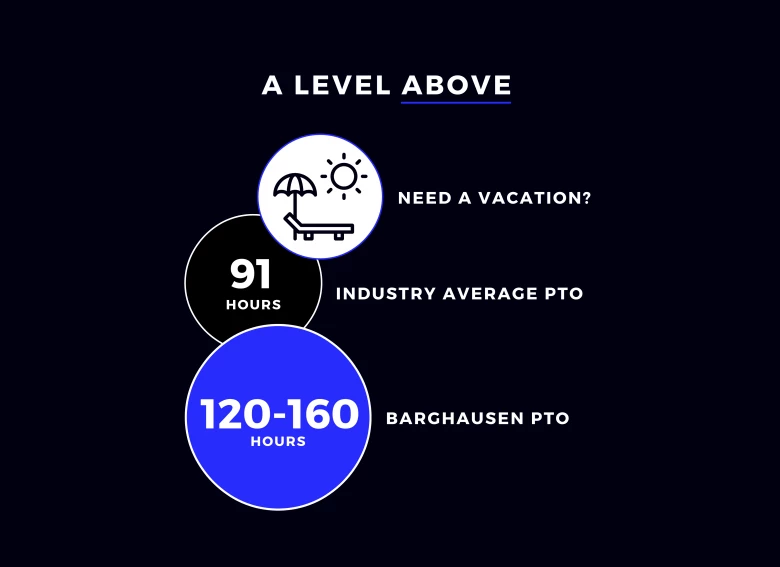 View full image
Work-life balance is a buzzword that many companies are using these days. Paid time off (PTO) plays a key role in creating a healthy work-life balance for employees. Whether it's an out-of-country vacation, staycation, or a mental break to unplug, paid time off is a crucial factor that contributes to well-being in the workplace.
One of the core values we believe in is "Work Hard, Play Hard," meaning we want to give our employees the well-deserved balance they need between work and personal time. In spirit of this value, Barghausen has made significant changes to their PTO program.
The average PTO of the Engineering and Architecture industry within the U.S. is 11.4 days (91.2 hours). Our employees are the life-source of our business and we work hard to make sure each person receives benefits well above the industry standard. Employees who have been with the company for 5+ years will receive 4 weeks (160 hours) of PTO annually. Employees who have been employed for less than 5 years will receive 3 weeks (120 hours) of PTO annually.
PTO is earned automatically upon employment, there is no waiting period to receive this benefit! In addition to our PTO program, all employees receive 7 paid holidays (56 hours) throughout the year. At Barghausen, work-life balance is more than a buzzword, it's a reality.
Need more paid time off? Good news, we're hiring! Check out our open positions or email your resume to careers@barghausen.com.