Barghausen's Leadership Team Continues to Grow: Meet our Newest Shareholders
Company News, Employee Insights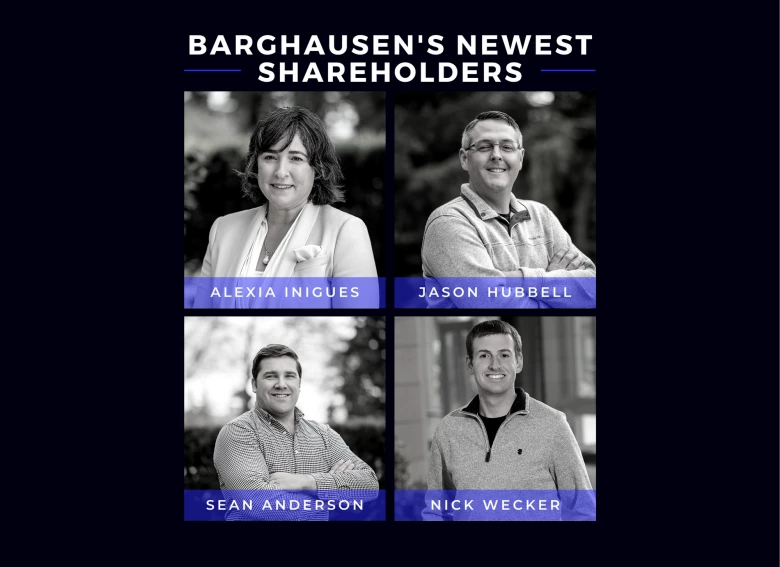 View full image
Barghausen recently added four new company owners to the leadership team. Senior Planners, Sean Anderson, and Nick Wecker; Permitting and Regulatory Compliance Manager, Alexia Inigues; and Senior Project Engineer, Jason Hubbell, were promoted to shareholders, now owning a stake in the firm.
Each individual shows dedication to the company through exemplary character, a strong work ethic, willingness to accept responsibility, integrity, and professional competence in their field of expertise. Each new shareholder shows an unwavering commitment to do the very best that they can for the firm, their team, and their clients.
With the addition of these four individuals, the total number of Barghausen shareholders is now at 14, reflecting the continuing effort to gradually expand the number of shareholders in the company as a means of rewarding excellence while simultaneously ensuring that key staff have a role in the company's goals and future.

| | | |
| --- | --- | --- |
| Alexia Inigues - Permitting & Regulatory Compliance Manager, Shareholder | | Alexia Inigues is our Permitting and Regulatory Compliance Manager who joined the company in 1997, with most of her time with the Company being focused on, and for, a nationwide retail fueling client and their many entitlement programs. Several years ago, she took over management of the Compliance Program, leading a talented team ensuring a nationwide retail fueling client remains in compliance with a myriad of regulations and permit renewal requirements over all 50 states. Her ability to manage thousands of tasks over hundreds of projects every month is unmatched, as is her unwavering commitment to making sure our client is happy with the level of service received. |
| Jason Hubbell - Senior Project Engineer, Shareholder | | Jason Hubbell is a Senior Project Engineer who also joined the Company in 1997. Most of his early career with the Company involved helping clients get their projects designed and permitted. However, his dedication and work ethic combined with excellent personal communication skills have enabled him to build his own client base that includes a wide range of commercial, industrial, and residential projects. Jason's calm demeanor, professional skills, and management style have garnered him the respect of his peers and clients alike. |
| Nick Wecker - Senior Planner, Shareholder | | Nick Wecker is a Senior Planner who joined the Company in 2013, quickly proving his value as a project manager for a large portion of our company's corporate commercial work. Nick has shown the unique ability to take on a heavy workload with dozens of clients while making each client feel like his only client. He is responsible for developing and sustaining many of our key client accounts. Most of Nick's time has been spent on multisite commercial programs that span across multiple U.S. states. He has shown expertise in everything that makes a great Project Manager, Senior Planner, and business development professional. Nick is a perfect example of the type of service, expertise, and responsiveness that has made Barghausen so successful for the last 40 years. |
| Sean Anderson - Senior Planner, Shareholder | | Sean Anderson is a Senior Planner that joined the Company in early 2014, with most of his expertise focused on a nationwide fueling program. Sean takes a lead client-facing role on the team and has led the internal team on a gas program for many years. Sean ensures that all internal departments communicate well and deliver consistent results for our client. He has been instrumental in expanding our footprint with the client into the Midwest, the East Coast, as well as gaining additional market share in Southern California and the Bay Area. Sean's skills on the program have translated well into leading the planning effort on several other key accounts. Sean's unwavering commitment to client service and delivering an excellent work product elevates those around him and gains the trust of our clients. |