Onboarding Icebreakers - Getting to Know Our Newest Team Members
Company News, Employee Insights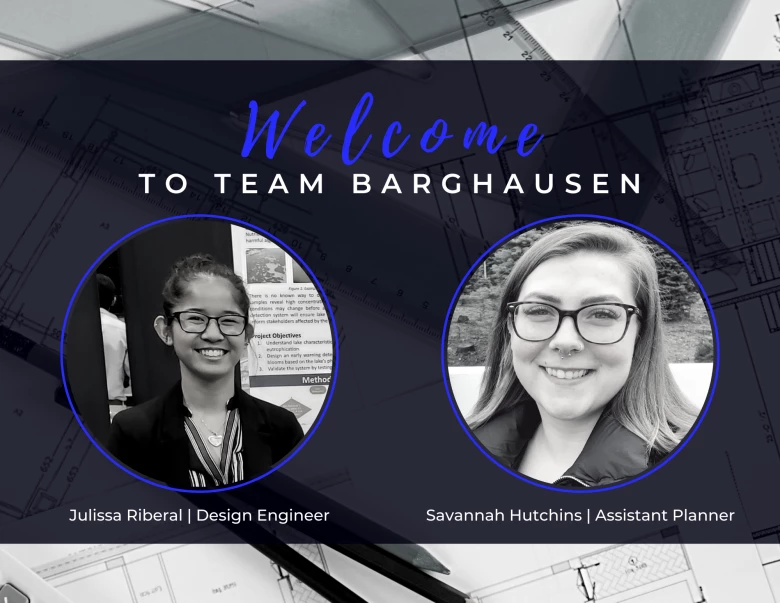 View full image

We're excited to introduce you to our new teammates, Design Engineer Julissa Riberal and Assistant Planner Savannah Hutchinson. From bucket lists to industry insights, get to know our new crew members. Welcome to Barghausen, Julissa and Savannah, we are thrilled to have you on board!


Let's break the ice – what are the top 5 things on your bucket list?

Julissa: Learn how to swim, visit every country in the world, get a motorcycle license/pilot license, build my own home, buy land/buy a house/build a house for my parents.
Savannah: Experience the Northern Lights in person, obtain and keep alive a variegated monstera albo, conquer the Manitou Springs Incline, purchase a house, and take a hot air balloon ride.
What led you to the AEC industry?
Julissa: I've always loved puzzles, and being an engineer, I get the chance to problem solve and actively think. A few high school and college presentations led me to the AEC industry, and I am happy I get to solve puzzles everyday.
Savannah: I took a few planning courses in college and was able to complete a planning internship with the City of Cle Elum during my senior year. I really enjoyed working alongside the City Planner and the rest is history!

Do you see the industry changing once the pandemic is over? If so, how?
Julissa: I think the pandemic demonstrated how resilient this industry is. Even in a time of crises, people in the industry were able to adapt, work, and even thrive across different platforms. After the pandemic, I think it will change. I think we will see people with more opportunities to work remotely, and with that, the opportunity to seek business from a variety of places.
Savannah: I believe industry in general will continue to shift. With the pandemic, we have seen a huge rise in telecommuting which I hope will outlast the pandemic. Working from home, especially with a senior dog, has been great!

If you could choose any person to mentor you, who would it be and why?
Julissa: I think Kacey in the Barghausen Roseville office is everything I could ask for in a mentor. She is articulate, confident, and compassionate to me as an employee. She is who I want to be my mentor.
What excites you most about this new journey with Barghausen?
Julissa: It is my fourth week here, and I feel like I have already learned so much. Everyone at the Barghausen team has been so helpful and kind, I'm excited to get to know everyone and learn more from the team.
Savannah: I'm looking forward to when I can finally meet everyone in person and place faces with names! I also come from a residential background and am very excited to be moving into commercial projects.